6 Digital Marketing Trends That Will Explode Your Brand Awareness in 2018
Online marketing has changed a lot over the last few years. The paradigm has shifted, and what worked for you last year won't work for you this year. What got you to this point won't get you to where you want to be, and your job as an entrepreneur is to keep up with this change.
The leads you bring in and the customers you attract are the lifeblood of your business, and it's no longer enough to create a single marketing funnel and expect a return on your investment.
Today, your ability to create leads comes down to building trust and intimacy with those who need you the most, and to then convince them you're the most relevant choice. You need to become omnipresent and top of mind, and you can do this by paying close attention to these six digital marketing trends.
1. Relevancy wins the war.
It's no longer about collecting the most email addresses or leads. Those with the biggest lists used to dominate their niche, but this will not work in 2018 as people begin to crave greater intimacy and relevance.
In 2018, relevancy will win the war. If you want to increase your profit this year, it isn't about creating more leads, it's about building greater intimacy and relevance with the leads you have — so you provide the right solution, to the right people, at the right time.
2. Attention is the new currency.
If you're not capturing (the right) attention in 2018, you lose your ability to compete without spending massive amounts of money on advertising and other online marketing.
Attention is getting more and more expensive as more businesses have easier access to it, meaning it's more important than ever to…Read More…
Page Ranking Trends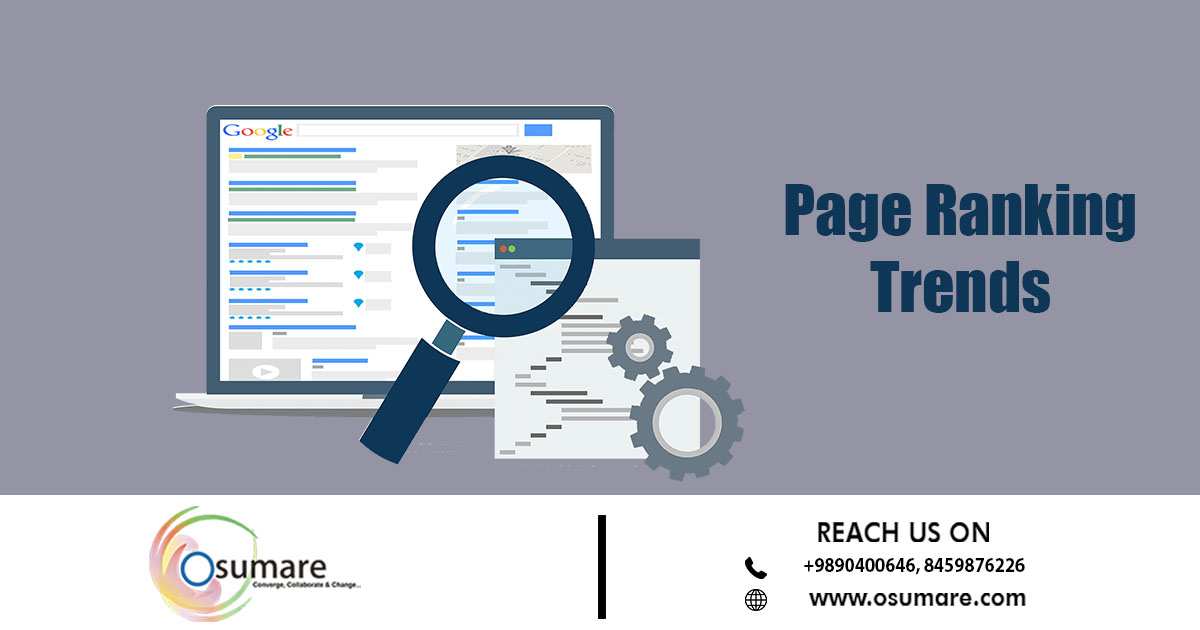 2018 is a year full of hope and of course its a great time to scrutinize about what SEO has in store for us in this year. With the advent of internet and the penetration of mobile phones even in the most remotest place of the world, promoting your business digitally has also become as important as traditional marketing (traditional marketing is the one which includes guerrilla marketing, direct marketing, word of mouth publicity, billboards etc). So SEO is also becoming very important as businesses are aware about the traffic that they could get from digital marketing if they promote their business properly online. This blog is meant to tell you about all the current happenings in the world of digital marketing, so that you promote your business properly online and get maximum number of customer digitally as well. In order to sustain in the current technologically advanced world, the more you promote your business by using various SEO tools, the more competitive you will stay.
Following are the some interesting Page ranking trends which are doing the rounds currently:
Most of the websites on the 1st  page of Google are often HTTPS
Hyper Text Transfer Protocol Security (HTTPS) in a layman's term means that your website is being viewed on a safe connection. The 'S' in the end of HTTPS stand for Secure. If one wants to add an S at the end of HTTP on their web address, they will have to acquire an SSL (Secure Sockets Layer) certificate. By this when a visitor visits the site his data will be encrypted and secure. According to Search Engine Results Pages (SERP), getting an HTTPS is a pretty big deal. According to a survey carried in June 2017, nearly 55% of sites on the first page of Google were secure. It is also predicted that by the end of 2018, this number is going to go up to 66%. The Chrome and the Mozilla browsers have also started placing warnings on the website that they are not HTTPS. So when a user sees that warning they may not want to go on that page if they feel that the connection over there is not secure.
What an HTTPS can do for you?
If your website has an SSL certificate, then your website has a better chance of ranking higher on Google than HTTP sites. The people who also visit your pages can visit your page without any fear, which will improve their experience and the amount of time spent on your site. This will also lead to a better SEO for your website, which could be done by adding an "S".
Many SERP features are being displayed
A (Search Engine Results Page) SERP feature is nothing but the results page that includes more than the SEO title (which is the top blue line), URL (which is the green line in the middle) and description (which is the black text that is underneath the blue and green lines). The number of rich snippets has not doubled but tripled in the last two years and is already 87% of… Read More.
3 Digital Marketing Trends You should Watch Out for in 2018
This is a sponsored post.
It is hard to look at digital marketing as a new field when it has so quickly become the dominating form of marketing, but it is a very new field when you compare it to traditional marketing mediums.
Since it is (relatively) new it is also rapidly evolving, with new concepts entering digital marketing quite often.
Let's look at what the dominating digital marketing trends will be in 2018. Some of these have been around for a few years, but 2018 is the year they truly come to form.
Mobile Marketing
We have always known that mobile was the future, but now mobile is the present.
More people are searching for things they need on their phone than are through computers. This means that for 2018 you need to focus more on the mobile side of your marketing efforts.
Think of new posters and ads which would work perfectly on mobile. Make the mobile experience of your website better.
Make sure you get those mobile visits, because those are the most valuable. Usually the people searching through their phones are the ones who have to make an immediate purchase, so you can get them in the perfect part of the consumer buying process.